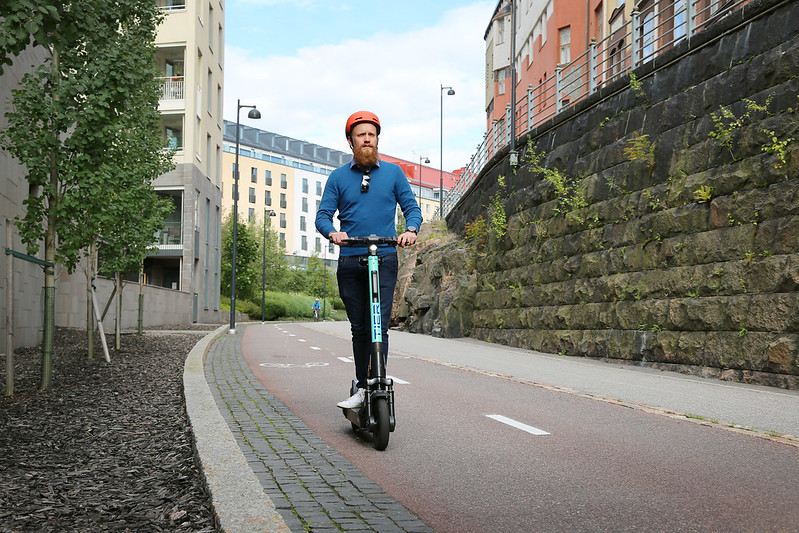 Electric bicycle, electric scooter and other electric mobility devices
Electric mobility devices include electric scooters, balance boards and mobility scooters as well as self-balancing unicycles and pedelecs. When riding one, you must follow all normal road rules and laws. The features of the device define whether you must comply the rules for cyclists, pedestrians or moped drivers.
The amount of various electric mobility devices currently available is staggering. The characteristics of the device determine whether its user is considered a pedestrian, cyclist or motor vehicle driver – and which road rules one must follow. These features also define whether the driver of the device is required to hold a driving licence or whether motor vehicle insurance is required.
Ride your e-scooter the right way
Before riding an electric scooter, it's important to familiarize yourself with the e-scooter – this applies to any other electric mobility device. Make sure you know where the accelerator, brakes, lights and horn are and you have a sense of how the throttle feels and brakes work, Remember that e-scooters are not toys, but vehicles.

The maximum structural speed of most electric scooters is 25 km/h – it is the case in rental e-scooters as well. Thus you must comply with cycling regulations when riding them. Use a cycle path, cycle lane or cycle street and if there is none, ride on the road as close to the right side of the road as safety allows. Riding an electric scooter on the pavement is unequivocally prohibited. As with a bicycle, the electric scooter must also be used on the cycle track, if a cycle track is available. The right side of the cycle track is used, and those riding in front are bypassed in the middle of the track. If there is no cycle track, the electric scooter is used on the right side of the road or carriageway. Riding on a cycle lane is subject to the same regulations as driving on the carriageway.
Taking others into account is essential both when using a device for mobility and when parking it. So do not leave a scooter on a lane where people may trip on it or collide with it.
Electric bicycles
Electric bicycle is lighter to pedal than a normal bicycle. When riding an electric bicycle, remain aware of their different handling characteristics in comparison to conventional bikes. Electric bikes have the added weight of the motor and battery, meaning that they are likely to come fitted with hydraulic brakes as they warrant extra stopping power.
The light pedalling makes an electric bicycle an excellent tool for slightly longer journeys. Electric power also facilitates pedalling against the wind and uphill. Depending on the model, the operating radius of the batteries requires charging every 30 to 70 kilometres. After this, the cyclist is in charge of increasing the speed.
E-bicycling is an excellent way to exercise reasonably intensely. For example, commuting is possible without excessive sweating. E-bicycling improves the mobility potential for users of different ages, improves traffic flow and reduces emissions.
Electric bicycle in brief:
The engine operates when pedalling, and disengages at 25 km/h. If the speed is less than or equal to 6 km/h, the electric engine can operate without pedalling.
With the assistance, it is lighter to pedal than a normal bicycle; the increased power will help particularly on uphill slopes, as if someone was pushing from the back.
Along with its battery, it is currently 6 to 8 kg heavier than a normal bicycle — without assistance, it is thus slightly heavier to pedal than a normal bicycle.
The operating radius depends on the model: it should be charged approximately every 30 to 70 km
Almost all models allow the battery to be removed and charged indoors
The bicycles have a large price range: currently, the most common bicycles cost between EUR 1,000 and EUR 1,500.
In addition to the electric bicycle, there are motorised bicycles (more than 250 W engines, fully functional without pedalling) and conversion kits (electrical features installed on a conventional bicycle). The term 'electric bicycle' refers to all three: electric bicycles, motorised bicycles and bicycles converted into such bicycles.
(Source: Finnish Transport Agency.)
Light electric vehicles
A self-balancing light electric vehicle which remains in balance even when the vehicle is not moving or has no driver may also be driven on the pavement. In such cases, the driver must provide unobstructed access to pedestrians.
Light electric vehicles must be equipped with a headlight and a red rear reflector and an audible warning device.
The use of the equipment does not require a driving licence, registration or inspection. In addition to bicycles, the provisions on drink-driving also cover motorised bicycles and light electric vehicles.
Assistive walking devices
Assistive walking devices or mobility devices are used on pedestrian routes according to traffic regulations for pedestrians.
Assistive walking devices refer to devices such as balanced people movers with one or several wheels, such as
balance scooters and
other similar light vehicles equipped with an electric motor.