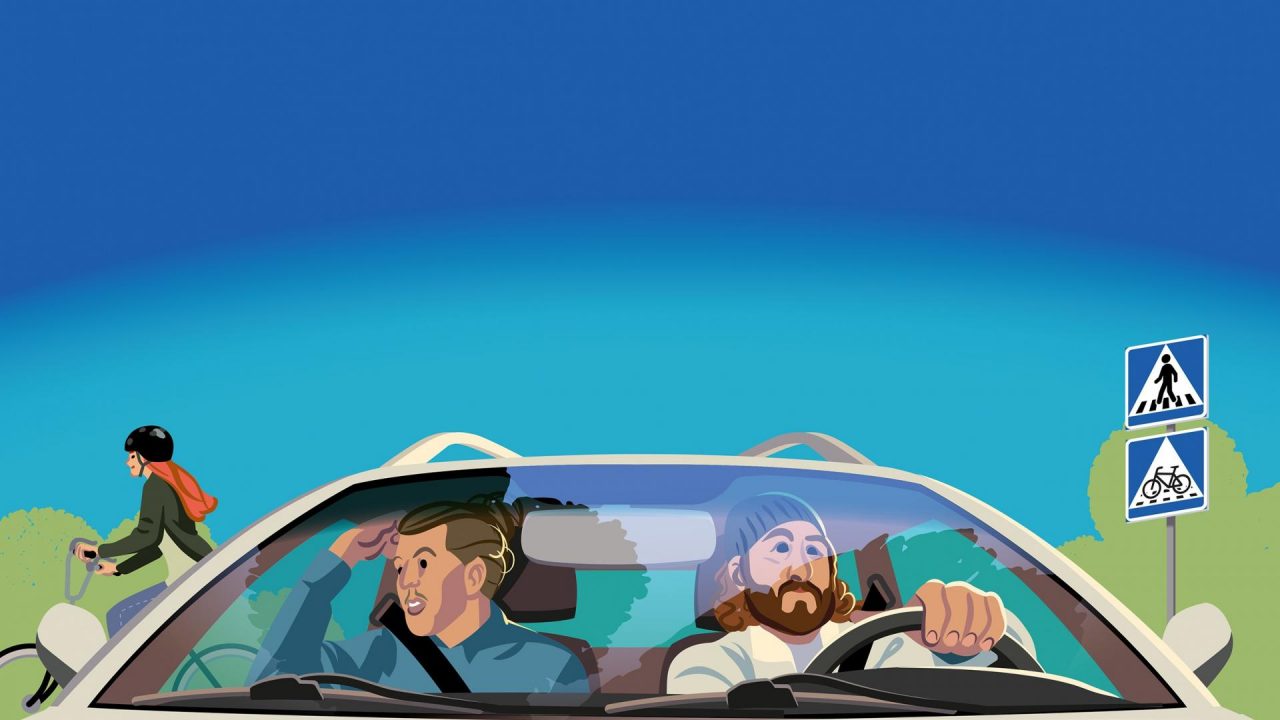 Do you know the rules of the road?
Do you know the rules of the road? The Road Safety Act came into force in Finland on June 1st 2020. Compared to the previous law, the new Road Traffic Act brought some changes like new road markings and traffic signs. For example, do you recognize the new bicycle street traffic sign or know what it means?
Here are a few of the key rules concerning cyclists and motorists and giving way at junctions.
Give way for pedestrians at a zebra crossing
Drivers must give way to pedestrians who are on a zebra crossing or preparing to step onto one.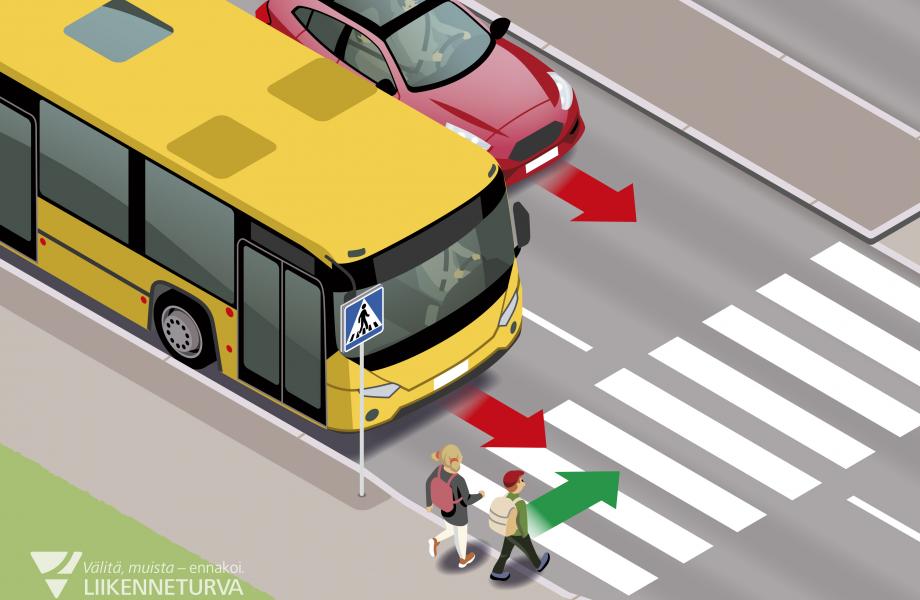 Crossing the road as a cyclist
A place for cyclists to cross a road can be indicated with a cycling path extension, a zebra crossing or there may be no
markings on the road at all. A cycling path extension is only marked if drivers are required to give way by one of the following signs:
give way
stop
give way to cycles
and at traffic light-controlled crossing points.
If the obligation to give way has not been indicated with a road sign, the traffic rules determine who should give way at the intersection of a cycle path and a carriageway. At the intersection, a cyclist entering the road from a
cycle path must give way to drivers coming from both the left and the right. Regardless of this, drivers must always give way to pedestrians, cyclists and moped riders who are crossing the street that the vehicle is turning onto.
Cyclists can cycle across the road using a zebra crossing. If the cyclists are pushing their bikes across the zebra crossing, they are classified as pedestrians and motorists must give way to them.

The new Road Traffic Act entered into force on June 1st 2020. According to the new law, cycling path extensions are only marked if other traffic is obliged to give way. This change has a transition period of two years. Please note that during the transition period, road markings may not correspond to the road signs. Follow the signs and the traffic situation as a whole.
Follow the road sign
Both give way sign and stop sign mean that at an intersection you must give way also to the cyclists crossing the road.
Also as a cyclist, don't pass a stop sign without stopping or run a red light.
The vehicle turning must give way
When turning, give way to pedestrians, cyclists and moped riders crossing the road. Always take care when approaching an intersection
Exiting a courtyard
Give way to other road users whenever you enter the road from a courtyard, parking lot, residential zone etc.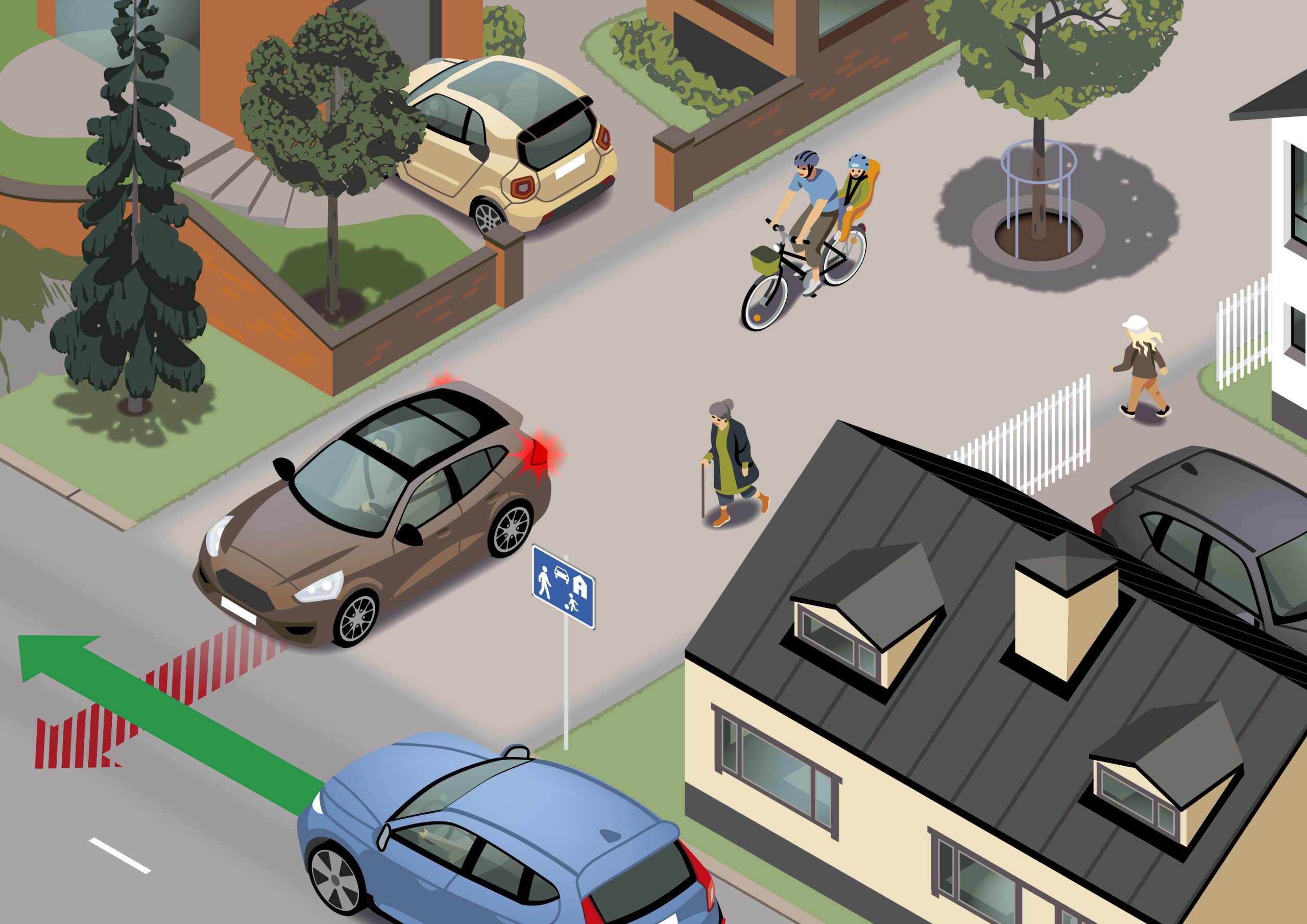 Roundabout
Motorists entering and exiting a roundabout must give way to pedestrians, cyclists and moped riders who are crossing the road.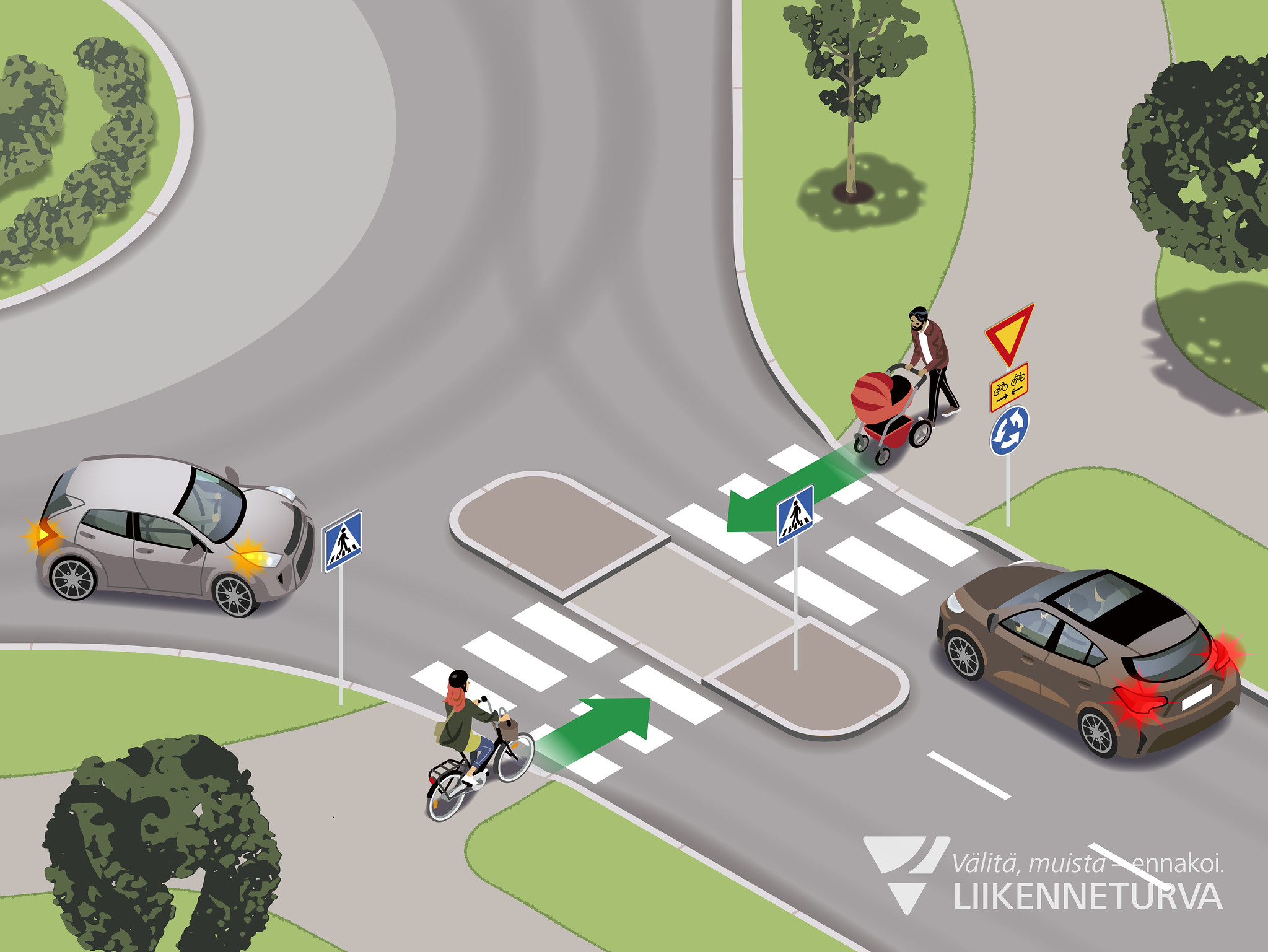 Bicycle street
The bike street is a completely new type of street where you move on cyclists' terms. Motorists are allowed to drive on the bike path, but they have to adapt the speed to the speed of the bike. On the bicycle street there is a pedestrian walkway. The bicycle street sign itself does not indicate the speed limit, but it has been marked separately with the speed limit mark.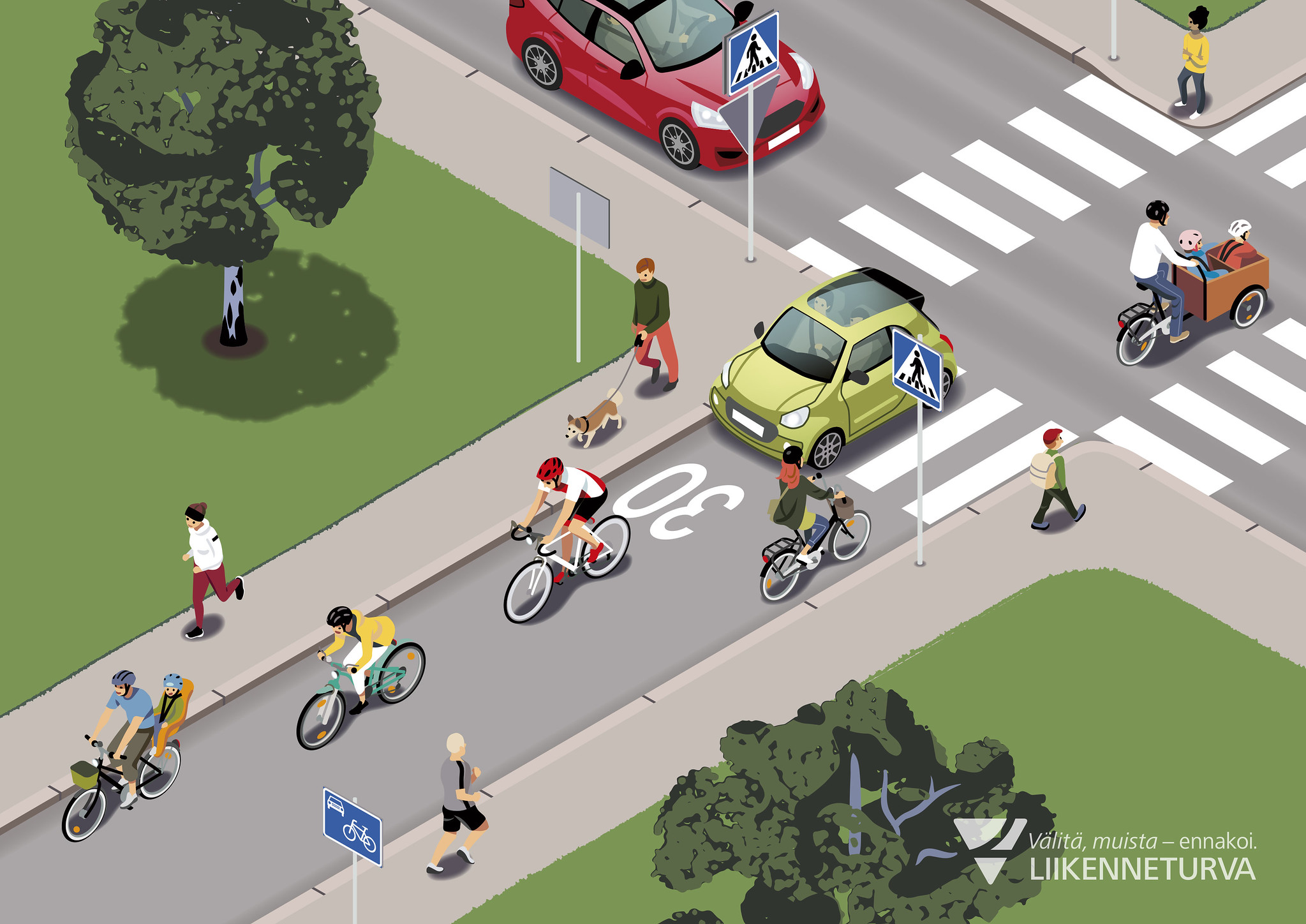 Cycle lanes for cyclists only
Cycle lanes can be marked with a road sign or road markings or both. Riding on a cycle lane is subject to the same rules as riding on the road.
Keep a good distance between yourself and parked cars so you don't get doored.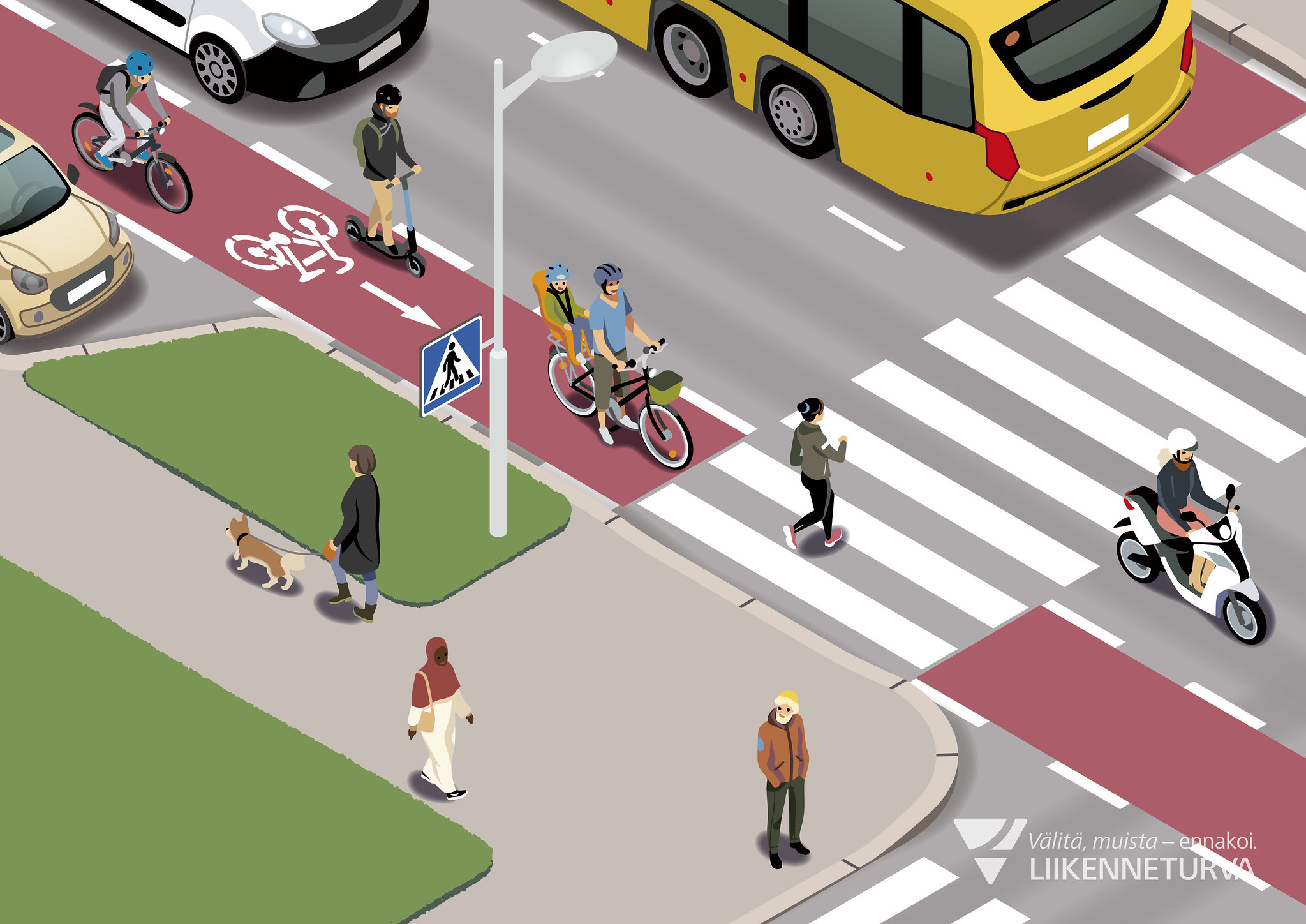 One-way street
With additional signs, two-way bicycle traffic can be allowed on one-way roads. The signs are used in connection with the road signs for a one-way road and no entry.
Cycle on your right. Be careful with oncoming traffic, when the one-way road comes to an end and at junctions to courtyards etc.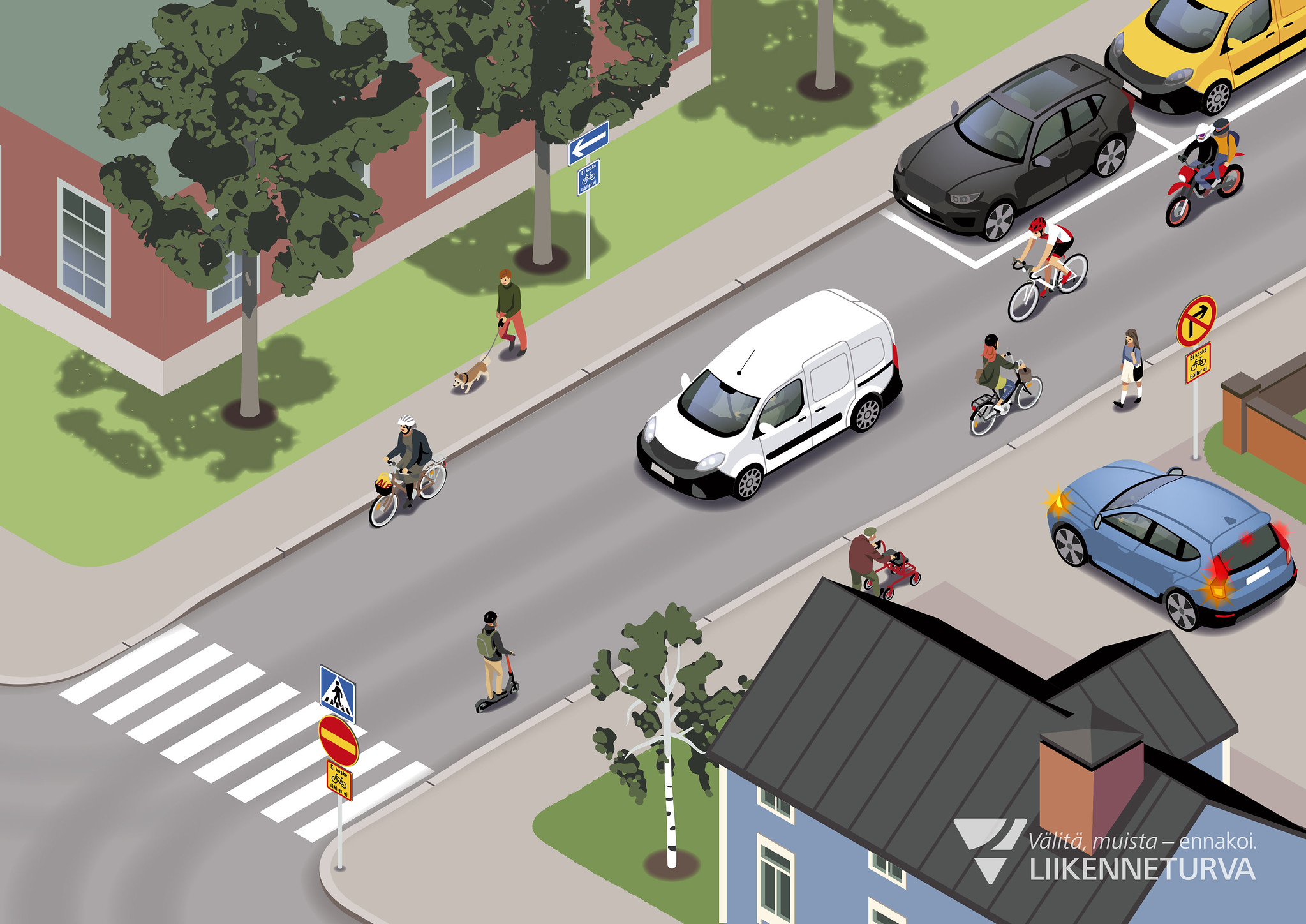 The Road Traffic Act changed
The Road Traffic Act entered into force on June 1st 2020. For the most part the rules of the road stay the same compared to the previous law. Some changes like new road markings and traffic signs were introduced.
As many changes have transition periods, there will be both old and new rule implementations, like road markings, visible in traffic environments for a while. Extra vigilance is thus required from all road users.
Traffic signs
The new Road Traffic Act introduced approximately 50 brand new traffic signs. Some changes were made to old traffic signs as well.
Here are six examples of the new traffic signs. On the top row from left to right:
Minimum speed
Centre
Give way for cycles.
On the bottowm row from left to right
Cycle lane
No cycles or mopeds
No vehicles with studded tyres.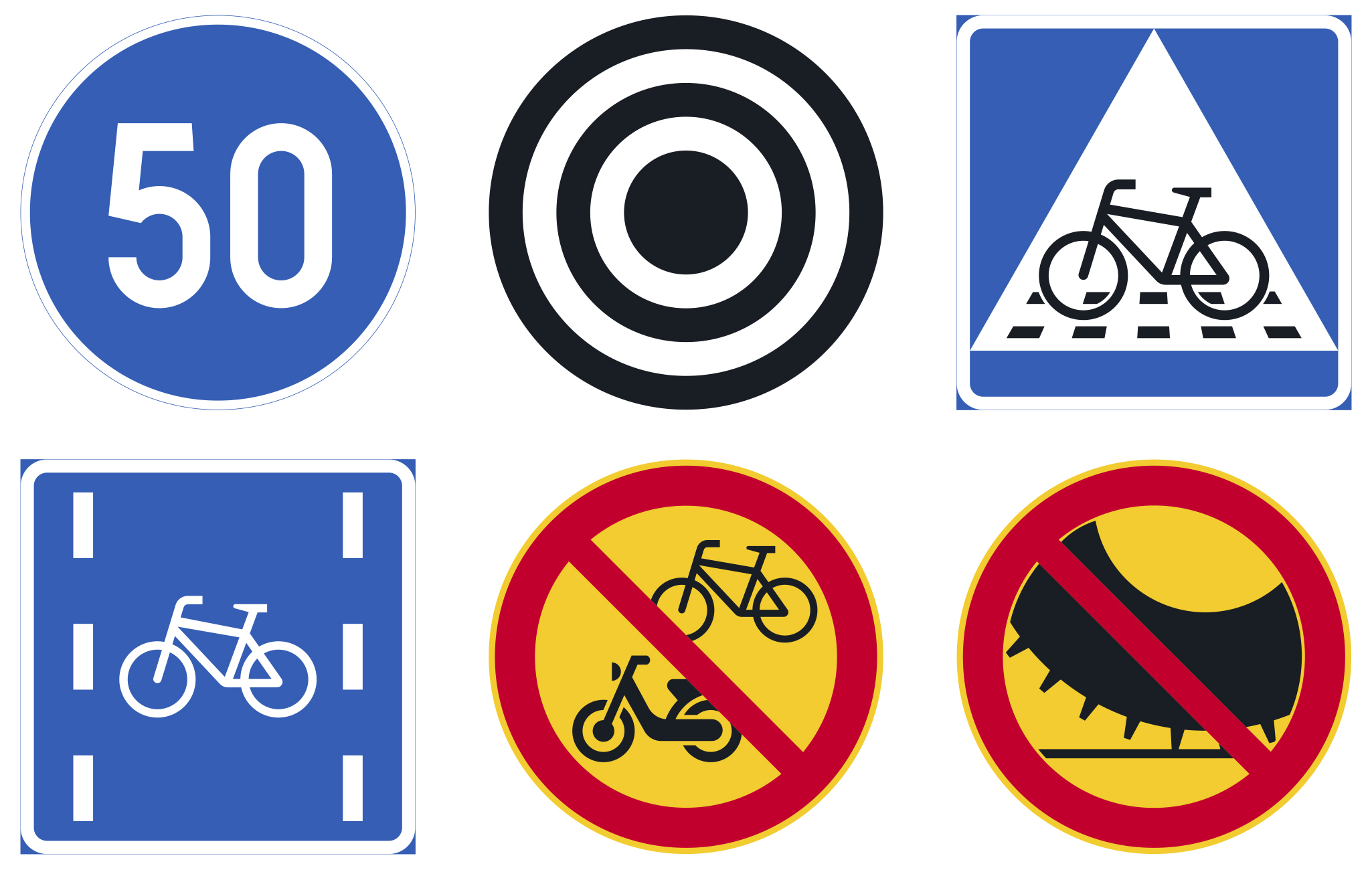 Changes to speed limits
The maximum allowed speed for passenger cars or vans and lightweight trailers or boat trailers with a maximum mass classification of 750 kg is 100 km/h. Vehicle-specific speed limits have been removed for vans as well as camper vans weighing up to 3500 kg. Now, these vehicles may follow road-specific speed limits (max. 120 km/h).
Choose your speed according to weather conditions. Note that as speed increases, many risks increase as well. Regularly check the condition of your vehicle or trailer and its tyres. Do not start driving unless you are sure that your vehicle is in good condition. Load your vehicle carefully.
A speed limit is not a recommended speed. When choosing your speed, take into account weather conditions, your vehicle and its load.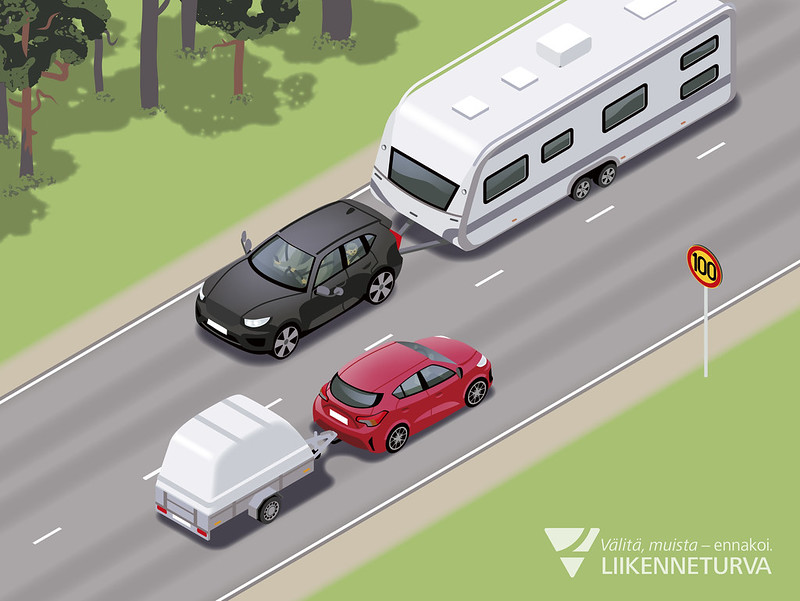 More freedom for choosing lanes when turning
If on a crossing carriageway there are two or more lanes in the direction of travel, driver may leave the intersection using the most suitable lane – while taking other traffic into account. Assess the situation before turning: pay attention to any oncoming vehicles or vehicles next to you and behind you. If there is a lot of traffic, the safest option is still to choose the nearest lane. People turning from opposite directions to the same direction cannot determine from your indicator which lane you are turning to.
Always remember to use your indicator and maintain a sufficiently low speed when turning and changing lanes.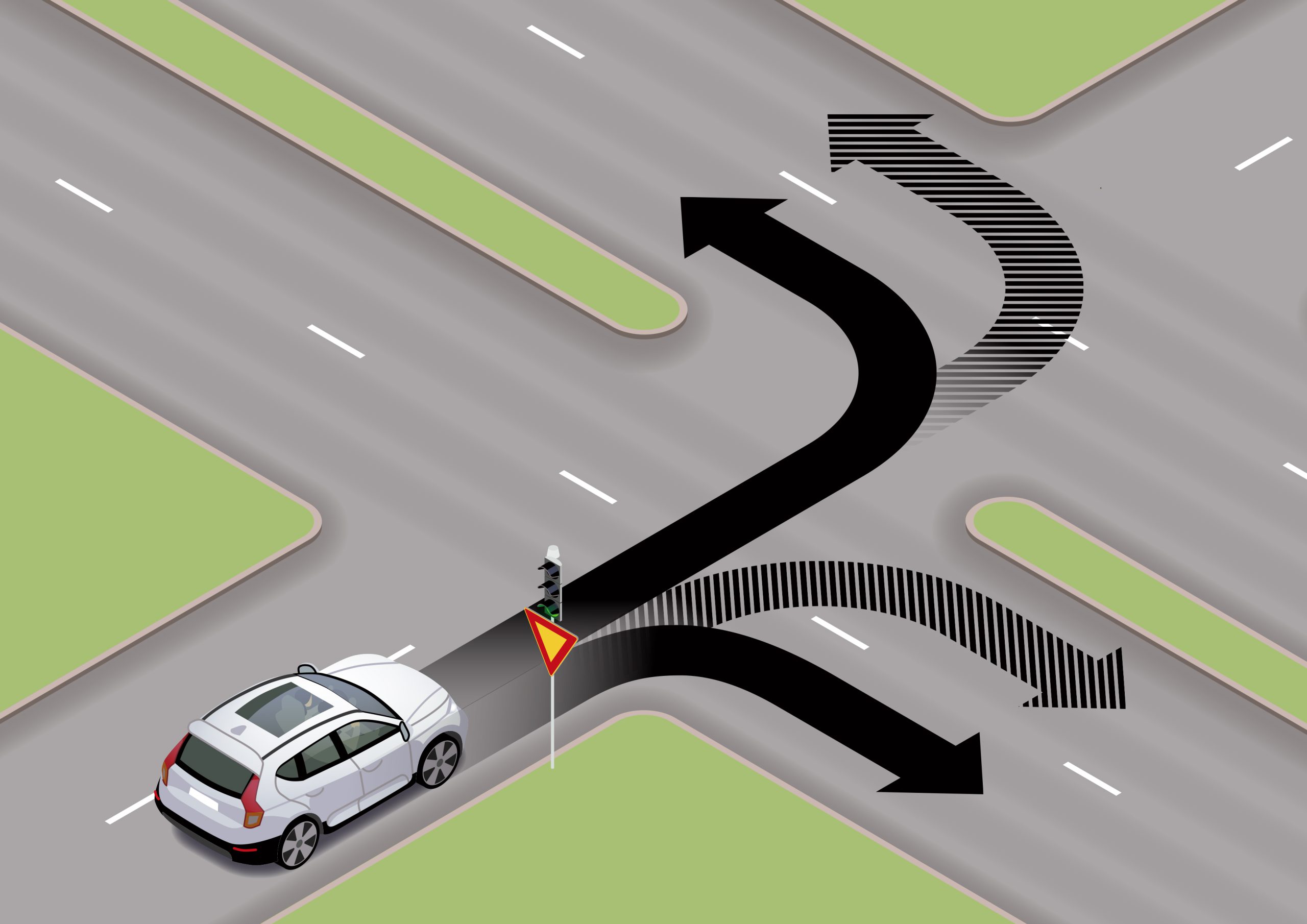 Weather-specific use for winter tires
Winter tires should be used from the beginning of November to the end of March, if so required by weather or road surface conditions. In other words, you could use summer tyres in January if the weather allows. Take weather conditions into account as a whole, not just the condition of main roads. Do not let winter surprise you.
Only drive with tyres that are in good condition. Check the tread depth regularly. Take note that motorcycles and mopeds also have winter tyre requirements.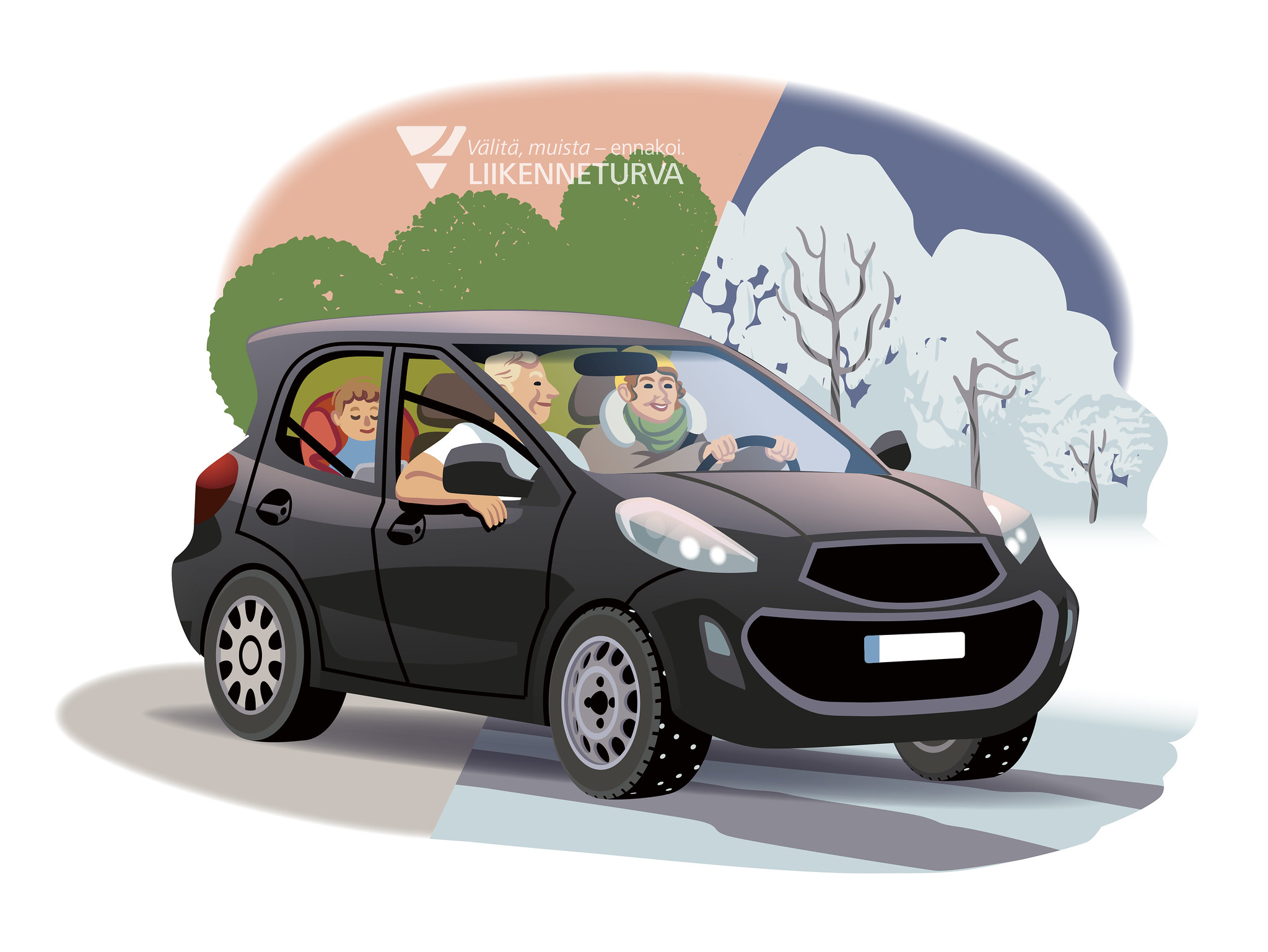 Parking is allowed on the left side in built-up areas
On two-way roads in urban areas it is allowed to park and stop also on the left side of the road. Park on the left side of the road only when it does not endanger other road users or cause inconvenience. Crossing barrier lines is not allowed.
Use your indicator when you are parking and leaving the parking spot. Remember that you have to give way to oncoming vehicles or vehicles coming behind you. Be aware of your vehicle's possible blind spots. Especially from a van or truck, it may be difficult to see what's behind your vehicle. When opening the door, whether you are the driver or passenger, be sure you do not door a cyclist.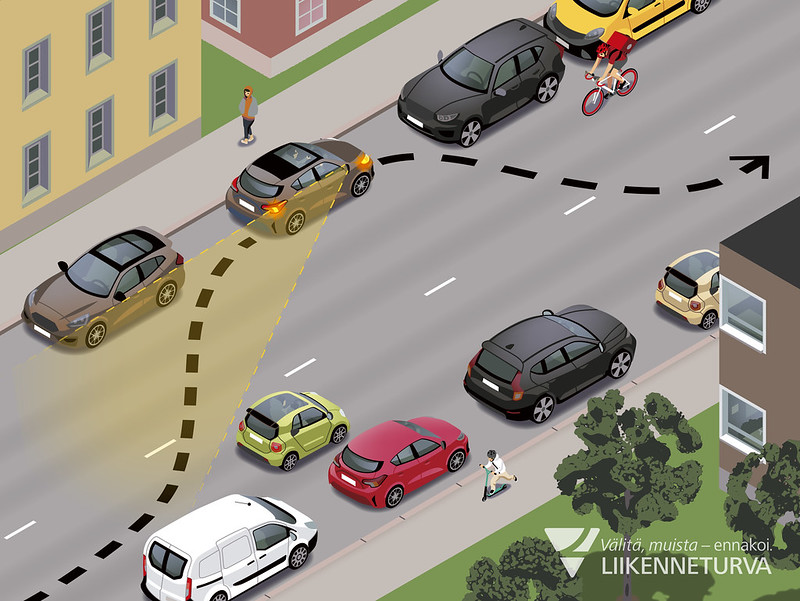 New sign indicates lanes merging
A sign with a red two-branched arrow on a blue background indicates that two lanes will merge. When you see the sign, prepare to merge. Drivers are to change to the merging lane by taking turns using the so called zipper method. Anticipation, planning and safe distance between vehicles improve the flow and safety of traffic: slow down before moving your vehicle sideways.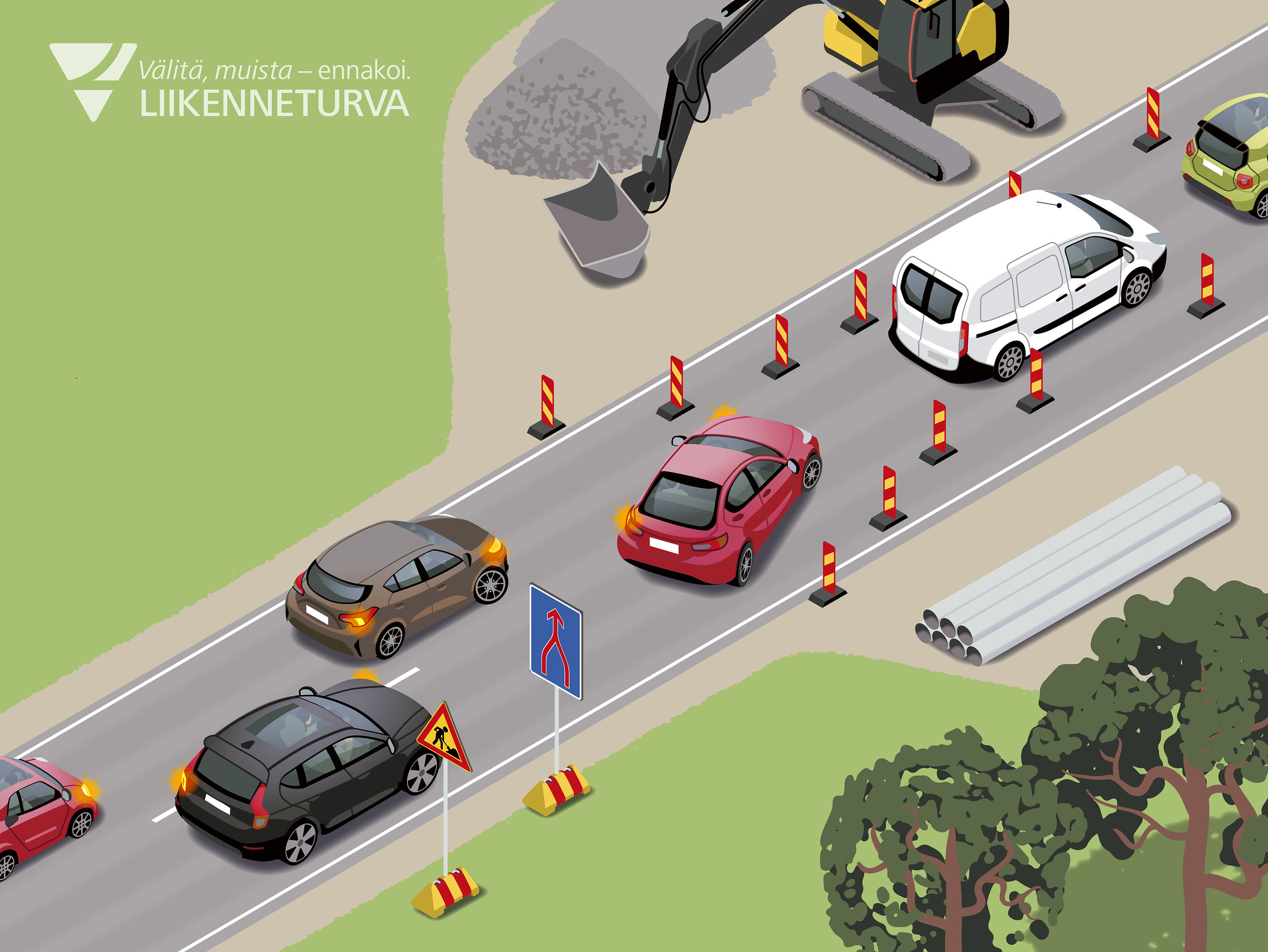 Use both a front and a tail light when it is dark
In dark and dim conditions, or if visibility is poor, the law requires that cyclists use both a front and a tail light. The front light must give out white light and the back light must be red. These lights can be attached to the bike or to the cyclist.